Staff
Our dedicated staff members are here to provide support, compassion, and information to help you through your journey of grief and the celebration of your loved one's life.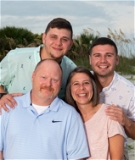 Jarod Williams
Owner/Funeral Director
morguemanager@yahoo.com
Jarod Williams (funeral director) was born and raised on the state line and graduated from Southern Illinois University at Carbondale in 1998 with his bachelor's degree in Mortuary Science and Funeral Services.
Tania Williams (non licensed owner) is a first grade teacher, graduating from Northern Illinois University in Dekalb.
Upper left - Brockton Williams - Brock just graduated from MATC Milwaukee funeral service program in 2023 and is working towards his full directors license.
Upper right - Bret Williams is our youngest son and works at Meriter Hospital in Madison on the heart and vascular floor and has one more year to complete his degree in the surgical field.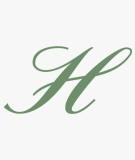 John Houck
Funeral Director
Born and raised in Richland Center, John decided he wanted to serve as a funeral director at the young age of seven. After graduating from the Richland Center High School in 1979, he worked two years at the Allen-Bradley Company in Richland Center to save money for Mortuary College. In 1981, he moved to Milwaukee where he enrolled at Milwaukee Area Technical College. In March of 1982, he was employed as an Apprentice Funeral Director with Larson Brothers Funeral Homes in Milwaukee where he served his required one-year, full-time apprenticeship. He then enrolled in the Mortuary Science program at Milwaukee Area Technical College and graduated in 1985. John continued working for Larson Brothers until moving to Dodgeville in August of 1987 when he began his career with the Lulloff-Peterson Funeral Home. John married his high school sweetheart, Lesley Rebhahn of Sextonville in September of 1985 and they have two sons, Kevin, born in 1995 and Nicholas, born in 2000. John has been an active member of the Wisconsin Funeral Director's Association and the National Funeral Director's Association. He has served in all offices of the Southwestern District of the Wisconsin Funeral Directors and has ascended through all offices of the Wisconsin Funeral Directors Association serving as State President in 2002-2003. He has also served two three-year terms as Wisconsin's representative on the National Funeral Director's Association Policy Board. Throughout his service to the Wisconsin Funeral Directors Association he has served on numerous committees including the Recruitment and Retention Task Force where he was instrumental in helping to rewrite the Funeral Director Apprenticeship Program for the State of Wisconsin as well as to shift the Milwaukee Area Technical College Mortuary Science Program from a two nine-month year program to a twelve month program. He helped create the Wisconsin Military Honors Program as the only funeral director representative working with the Wisconsin Department of Veteran Affairs to ensure that all eligible veterans in Wisconsin receive military honors. This has grown into a nationally recognized program. John served on the Organ and Tissue Donation Committee from its inception. Their work has fostered improved working relationships between funeral directors and Organ and Tissue Procurement companies. They have also created a fair reimbursement schedule to insure that no donor family incurs any expense to donate a loved ones organs and or tissue. This too has become recognized as the nation's leading program of its kind. He also served as Chairman of the Wisconsin Funeral Directors Association By-laws Committee that oversees any and all changes in the Association's governance. Besides the National Funeral Director's Policy Board, John also served on the National Funeral Director's Association Organ and Tissue Liaison Committee where he shared his knowledge with others from around the country. John's desire to help others via organ and tissue donation led him to become a six year board member of the Board Of Director's of the Lion's Eye Bank of Wisconsin, dedicated to improving or restoring sight to Wisconsinites and others worldwide. For several years, he was a volunteer enucleator for the Lions Eye Bank of Wisconsin. Locally John and his family are members of the Dodgeville United Methodist Church where he has served on the Administration Council and as Chairman of the Board of Trustees. He has been a member of the Dodgeville Lion's Club since 1987 and has served as President. He is also a member of the Dodgeville Masonic Lodge #119 and the Valley of Madison Scottish Rite. In 2007, John was a founding Board member of the Dodgeville Area Scholarship Foundation Inc. and stills serves on this board. He also serves as treasurer on the board of directors for the Iowa County Prevent Suicide Coalition. John and Lesley and their sons had been active in Dodgeville Cub Scout Pack 357 for many years where he has served as both Webelos Leader and Assistant Cub Master. John later served in the leadership of Boy Scout Troop 165 working up to Scoutmaster. He currently serves on the Board of Directors of the Wisconsin River District of the Glaciers Edge Council of Boy Scouts. Lesley is an active member of the Dodgeville Woman's Club and served as president for four years. When time allows, John enjoys woodworking and restoring antique automobiles. He still owns the 1967 Camaro SS he bought in high school, as well as a 1931 Ford Model A Pickup as well other projects.
Lulloff-Peterson-Houck Funeral Home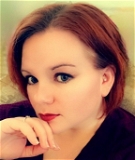 Kaitie Komorowski
Funeral Director
director@houckfuneralhomes.com
Kaitie is a licensed funeral director originating from Cottage Grove, WI. Funeral service is something she has been interested in and passionate about since she was a very young child. After many years of doing what other people thought she should do, she decided to follow her own dreams and become a funeral director.
Kaitie has a vast educational background including a Business Management degree from Madison College (2013), a BS in Forensic Investigation from UW-Platteville (2016), a MS in Criminology with a focus in Human Behavior from Regis University (2018), a MS in Forensic Medicine from University of Florida (2020), and has most recently earned her Funeral Service degree from Milwaukee Area Technical College.
Kaitie is also a certified crematory operator and a certified funeral celebrant through the InSight Institute.
She looks forward to working with area families to help create meaningful services to honor the lives of their loved ones.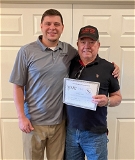 Brockton Williams
Apprentice Funeral Director
brock@williams-fs.com
Brock, son of Jarod and Tania Williams, just completed his Mortuary Science and Funeral Service Degree program from MATC Milwaukee.
Brock will be working with families at various levels until his full licensure.
McGuire-Peterson-Houck Funeral Home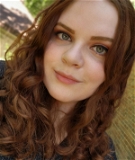 Reilley McMullin
Apprentice Funeral Director
director@houckfuneralhomes.com
Reilley is a licensed funeral director apprentice with Houck Funeral Home. She grew up in Grand Marsh, WI and previously attended the University of Platteville - forensic investigation program before moving to Milwaukee and completing her funeral service and mortuary science degree in May of 2023.